Our Approach
Our approach to filmmaking explores the nature of truth and our perceptions of reality, capturing a feeling of cinema verite in its seemingly casual structure, gaps in the narrative, temporal leaps and rough sound and image.
Our Story
Michael and I met for the first time in 1982 at Denison University in Granville, Ohio. Michael was teaching cinema theory and production and I was a student in my freshman year. The creative chemistry sparked and we have been weaving in and out of each other's lives ever since. Recently, we completed a feature-length documentary titled, "Crownsville Hospital:  From Lunacy to Legacy," about a now defunct state mental facility in Crownsville, MD. The film has won numerous awards and is currently touring the US and European film festivals.
Meet the Crew
"Art washes away from the soul the dust of everyday life." ~ Pablo Picasso
R. Todd Stevens
Director/Cinematographer/Editor
R. Todd Stevens brings his inquisitive nature, love of people and life, and ability to see beauty, truth, and essence in all things to a new level in his photography and films.
Raised by an artistic mother, Todd feels her guidance and his love for the cinema have been a great influence on his work. "There are certain filmic masterpieces which have, and always will, profoundly affect me.
After achieving a Bachelor of Arts in Cinema from Denison Unveristy in Granville, Ohio, Todd worked in film and television in Los Angeles and Columbus, Ohio until finally settling in Maryland as an Audio-Visual Coordinator with NASA Goddard Space Flight Center.
Todd feels that knowing how to properly light, frame and focus a scene is the first step. The "magic" happens after that.
Todd is also an accomplished photographer having exhibited his works in Baltimore, Annapolis and Granville, Ohio.
Todd currently resides in Arnold, Maryland where he enjoys his classic car and motorcycle collections.
Michael N. Allen
Director/Interviewer Cinematographer
Michael Allen is a former Assistant Professor of Film Studies at Hollins University in Roanoke, Virginia and former Assistant Professor of the Cinema Department at Denison University in Granville, Ohio.  Prior to that, Michael studied film at the Department of Media Study, SUNY at Buffalo, NY and was at the University of North Carolina at Greensboro (UNCG) as an undergraduate.
Heavily influenced by the experimental filmmakers Stan Brakhage, Michael Snow and Jonas Mekas, Michael began creating his own non-narrative works while at the University of New York at Buffalo.
Michael currently lives in Annapolis, MD and enjoys attending local cultural events with his partner, Anna.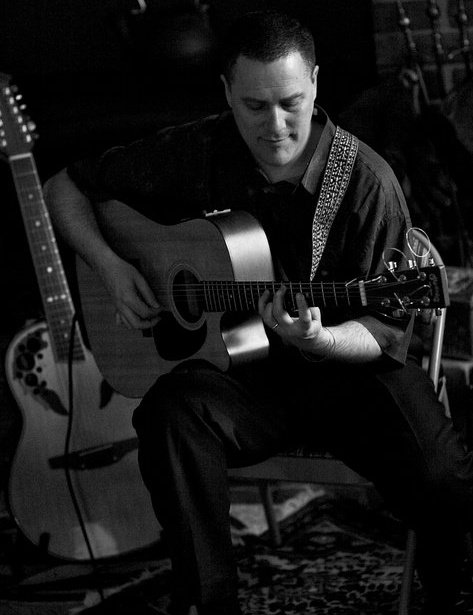 Rob Levit
                        Composer
Rob Levit is a multi-directional artist. While principally known as a guitarist and leader of the Rob Levit Trio renowned for its jazz renditions and improvisations, he also paints, writes poetry and essays and is active in infusing creativity and leadership into schools, communities and the workplace.
Levit lives on the cutting-edge of artistic inspiration and innovation and is a gifted speaker and facilitator on leadership, team building, and the creative process. Recently, he served as an Artist-In-Residence for six years at the Maryland Hall for the Creative Arts, the first musician selected to that position.
Rob has given presentations for the Moss Foundation for Children's Education, Daimler-Chrysler, Northwestern Mutual,Anne Arundel County Public Schools, New Jersey Hospital Association, Leadership Anne Arundel and many others.
Rob currently lives in Annapolis, MD with his wife Elaine and son Joshua.
Todd R. Smith
Cinematographer
From a young age, creation was the stuff of life for Todd R. Smith. His journey began with live action and stop-motion Super 8 movies and evolved into making shorts shown on PBS.
After majoring in Cinema at Denison University in Granville, Ohio, Todd worked internships with Cinema for Living Cinema and with filmmaker Leandro Katz in NYC.
Todd then was hired by a Film/Video/Audio production company in Rochester, NY and eventually got to live his dream - working on special visual effects in Novato, California for 22 years with the Academy Award-winning company Matte World Digital.
Todd currently lives with his family in the forests of New Hampshire.
R. Scott Gaillard
Originally from Pittsburgh, PA,  Scott achieved a Bachelor of Arts in Cinema degree from Denison University in Granville, Ohio in 1985.  Following this, Scott became President and Owner of Berwyn Editorial, A boutique commercial editing and production house in New York City.  Scott held this position until he dissolved the company 23 years later.  During this time period, and for 10 years, Scott was also the owner of the broadcasting and media production company, Outside Editorial in NYC.
In 2013, Scott became the Managing Director of Studio 6/Havas, a multi-national advertising and public relations firm with offices in NYC. In 2016, Scott became a Senior Partner of Soho Post Office, a video production house in NYC.
Scott currently resides in New Jersey with his wife, Ivana and their children, and is an avid David Bowie and Talking Heads fan.